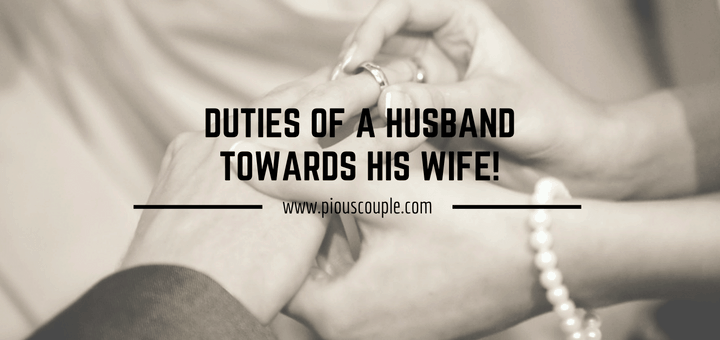 DUTIES OF A HUSBAND TOWARDS HIS WIFE!
The Holy Quran says
"The woman have almost the same rights over men as men have certain rights over the women in kindness"
The Prophet (SAW) has said
"Best among you are those who behave well with their woman"
Every husband has the obligation to provide for the sustenance of his wife. She should be provided with food, a comfortable home, suitable clothes and other basic amenities of life. It is the husband's duty to look after her basic needs and comforts.
If the wife falls sick, the husband should dedicatedly look after her. This little service will win over the heart of the wife and she will be grateful.
The husband should never share the secrets of wife with others. He should be neat and clean as he expects the same from his wife. He should look smart, dynamic and a lovable person.
The husband should not confine his wife within the four walks of his house. She should be taken out to see her parents, relatives.
A husband should be loving towards his wife and show her respect at all times. She feels good when she is respected and would hate those who try to degrade her.
Most importantly a husband should never beat up his wife. Prophet (SAW) had said
" Nobody should beat up his wife"
A woman is also similar to a man, we all undergo emotional changes. She experiences happiness, anger, sorrows etc.. This is especially the case for woman because they are very sensitive and would react more towards unpleasant situations as compared to men.
In order to bring peace and prosperity in the married life, both the husband and wife should take care of each other's sentiment and emotions. It is advisable to both husband and wife to be patient and compassionate in their dealings.
Be well mannered and stop complaining unnecessarily. The problems of life is many. There's no one who is completely happy in this world. We need to compromise and adjust.
From
A Sister,
Note : May be you don't agree with the article, its up to you, these are just tips
---
We hope this article helped you. If you liked this article, then please subscribe us on Twitter , Facebook , Pinterest and Instagram.
May Allah SWT bless all Muslim brothers and sisters with happiness in their family life!
DISCLAIMER:
The articles and views posted on this blog are the opinions of individual authors only and as such may not reflect the opinions of Pious Couple staff, editors and readers. They are solely meant for educational purposes and not any illegal purpose. The authors/shuyookh are not responsible or liable for the intentional, reckless, or negligent actions of any individual. Any person who posts, quotes, cites, copies or otherwise relies on any article or comment associated in any way with Pious Couple blog bears sole responsibility for his or her actions, choices and words. While constructive criticism and meaningful discussions are welcome; abusive comments, name calling or intolerance towards other religions, race, sex, countries, etc., will not be entertained. Pious Couple reserves all rights to delete/edit any type of comment or discussion that is inappropriate Islamically, morally or otherwise.